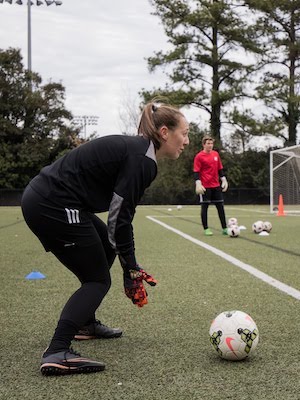 Kim Kern started Focus Goalkeeping in 2016 after recognizing a need for quality goalkeeper training outside of the club environment.  Above all, she is driven by one long-standing belief: A goalkeeper's confidence and ability stems directly from a clear understanding and mastery of the intricacies of the position.
The Raleigh, N.C., native graduated from NC State in 2012 with a degree in Sport Management.  She was a four-year starting goalkeeper, making 66 career starts in net, including 57 out of 58 games her final three seasons. Kern's 324 career saves rank third-best in school history, while her 1.29 goals-against-average and 15 shutouts rank fifth and sixth, respectively.  Kern served both as an Assistant Coach and Director of Operations for the program before stepping down to pursue a professional soccer career.  After a short stint with Oulu Nice of the Finnish First Division, she returned to NC State as Director of Goalkeeping, and soon after moved into her current role as Director of Operations.
She also coaches goalkeepers for NCFC Youth & runs all operations for Focus Goalkeeping.  Kern holds her NSCAA Advanced National Goalkeeping license.